Getting Around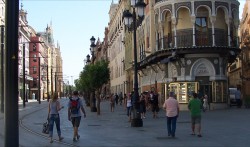 Walk
Getting around in Sevilla is easy. The center of Sevilla is compact and easily accessible by foot. Walking from the Universidad de Sevilla and el Parque María Luisa to Plaza Nueva is less than 20 minutes.
Bicycle

Cycling is an easy way to get around the city due to the flat terrain, although navigating the traffic can be difficult.
City Bus
Buses are the easiest and cheapest way to get around Seville if you're going a little further. Los Autobuses Urbanos cost .90€ per ticket, or billete. Bus service is daily from 6am to 11:15pm. The city tourist office will provide a booklet outlining bus routes. If you plan to use them a lot buy a bonobus at a kiosco (newsstand) or estanco (tobacco shop). If you plan to be here for a month and use the
bus a lot, you may wish to purchase a monthly pass. The bus network is comprised of circular (C-1, C-2, C-3, C-4 buses) and line routes (north, south, east and west). You can catch most city buses in one of four locations:
Plaza Nueva
Plaza de la Encarnación
La Barqueta
Prado de San Sebastian


Taxi
This is quite a viable means of getting around, especially at night, when streets are dangerous because of frequent muggings. Taxis are another way to get around, although a little more expensive than the bus. It is not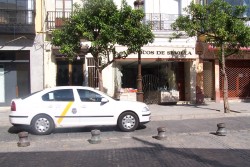 difficult to hail a taxi with a libre sign and illuminated green light, indicating that it's available. Most are fairly new and offer enough room for two with plenty of luggage. If you need a van or larger taxi you can generally secure one by calling ahead. Many of the short cab rides cost between 3-6€. From the airport to the center of town or the opposite there is now a flat rate in effect for taxis. The fee is 17€ during the day and 20€ during holidays, Sundays or night (after 10pm). Taxis can be found in the main plazas of the center in designated taxi stands if you can't hail one on the street. The best locations for finding a taxi are:
Plaza del Duque (in front of El Corte Inglés)
Plaza de la Encarnación
Plaza Alfalfa
Plaza Nueva
Plaza de Cuba

Taxi Telephone Numbers:
95 467 55 55
95 458 00 00

Train
Getting to the station from the center
Taking a train (or arriving by train) is fairly easy with Seville's Santa Justa train station located on Avenida Kansas City, close to the center. If you choose to walk it's about 15-20 minutes from the center, depending on your location. A cab will also get you there for 4-6€ depending on your location. Two bus lines will drop you at the station itself: Bus C-2 or Bus 32.
Getting to the center from the station
When arriving you can catch a cab to the center (at the front exit) again for about 4-6€. If you want to catch a bus to the center you have two good options. Bus 32 will take you to Plaza Encarnación in the center. If you prefer Plaza Nueva, perhaps a little more central, walk a block or two to Avenida Kansas City and catch Bus 21. If you don't have a lot of luggage you can easily walk to the center as well.
You can purchase tickets at the station, in the RENFE office located in Calle Zaragoza behind Plaza Nueva, or online at the RENFE reservation page. Many travel agents will book tickets for the train as well, especially when booking them with a flight or other travel services. As there is a travel agency just about on every block you shouldn't have trouble finding
one. When traveling to Madrid it is often nice to catch the AVE - a great high-speed train that has shaved hours off the journey. Tickets are more expensive than the normal train, but it is well worth it. If you want to save a little money catch the 10pm train as I did a while back. Just make sure you know what you're doing and where you're staying once you get to Madrid at 12:30am. Do note that it can be cheaper to fly to Madrid, especially if you use public transportation to and from each airport. I found a 25 Euro flight one time, which was more than half the price of the AVE. In general the AVE is cheaper, but not always. You can check exact prices and schedules of any train to and from any city at the RENFE schedule page.
Helpful Information & Links
RENFE 24 hour Information: 902 24 02 02
http://www.renfe.es
Regional Buses
Getting to and from the bus station

Both stations are practically in the center and in most cases you can walk to both of them. If not take a taxi and give the name of the bus station. Plaza de Armas is about 3 blocks from the Triana bridge and Reyes Catolicos. The Prado de San Sebastian station is close to the university and across the street from the Jardines Murillo. The most confusing thing about bus travel from Seville is the choice of the bus stations. There are two possibilities depending on your destination: Prado de San Sebastian or Plaza de Armas. If you are traveling to cities or towns in Andalucia, such as Cádiz, Granada, Málaga or Carmona you need to go to the
station in Prado de San Sebastian. If you are traveling to Huelva or outside of Andalucia, such as Madrid, Extremadura, or Portugal you need to head to the station in Plaza de Armas. As things change I do recommend you check before heading out. It is often difficult to get an actual person on the telephone at either of the numbers listed below. Many times the lines are busy, or they simply fail to answer. The best thing to do is go to the bus station the day before or head to the tourist office for some help.
Helpful Information & Links
Prado de San Sebastian Bus Station
Tel: 954 41 71 11
Plaza de Armas Bus Station
Tel: 954 90 80 40

Planes and the Airport
Aeropuerto
Getting to the airport
San Pablo Airport is located about 12 km north of the city. For a taxi to the airport there is now a flat rate in effect: 17€ during the day and 20€ during holidays, Sundays or nights (after 10pm). Just remember that "salidas" means departures and "llegadas" means arrivals so the driver drops you in the correct place. You can also catch a bus to the airport which has stops in several locations:
Puerta Jerez (in front of the Hotel Alfonso XIII - this stop is back and running now in between the Hotel and the Palacio San Telmo)
Palos de la Frontera (next to the Casino de la Exposición)
Pedro de Castro (Hotel Pasarela - Hotel Meliá)
Enramadilla (RENFE - Viapol)
Avda. San Francisco Javier (Edificio Sevilla II)
Luis de Morales (Hotel Portacoeli - Hotel Lebreros)
Avenida de Kansas City (Estación Santa Justa - Hotel Occidental)
Bus tickets currently cost 2,50€ and departures are about every 30 minutes beginning around 6:15am with an hour and 30 minute break around 3pm. Somewhere around 9 or 10pm they stop. For more information you can call Los Amarillos, the charter service who runs the route, at 902 21 03 17.
Getting to the center from the airport:
Taxis are waiting outside the arrival terminal near the baggage claim. Go to the taxi at the front of the line and normally the driver will help you with your luggage. You can also catch the same bus mentioned above by exiting the terminal, taking a right and passing the taxis. There is a sign for the bus with times indicated. You can rent cars at the airport and there are a few desks waiting in the arrivals area if you want to book upon arrival.
Helpful Information & Links
San Pablo Airport Tel: 954 44 90 00
San Pablo Airport Off Tel: 954 22 89 01
Los Amarillos (Airport Bus): 902 21 03 17

back to top
Disclaimer: We've tried to make the information on this web site as accurate as possible, but it is provided 'as is' and we accept no responsibility for any loss, injury or inconvenience sustained by anyone resulting from this information.

sevillatourist.com is a website owned by the Spanish company Spanish & Internship Consultant S.L. Calle Miguel Bueno Lara, 8, 6-3. info@sevillatourist.com, which is listed in the official Business Registry of Malaga (Registro Mercantil) with the following Cif and registration numbers (Cif B92896588, Tomo 4437, Libro 3346, Folio 40).