BEST SEVILLE SIGHTS



Seville Hotels
As the capital of the Spanish province of Andalusia, Seville is a cultural and historical centre in the south of Spain. Located along the banks of the beautiful Guadalquivir River, Seville has been a mixing pot of diverse cultures for hundreds of years, and boasts an impressive and rich heritage. Stunning architecture like the Cathedral of Seville and the Real Alcázar Palace are just a few of the many attractions worth visiting. With a welcoming local population and cheap Seville hotels that will make you feel right at home, what is stopping you from visiting this wonderful Spanish city?


Hotel Abanico: This charming traditional Aldalusian hotel is found right in the heart of Seville. It is surrounded by historical buildings from the 18th and 19th century, and is a short walk from historical sites like the Cathedral of Seville. Enjoy breakfast each morning in their courtyard, or have free coffee all day long in their cosy coffee shop.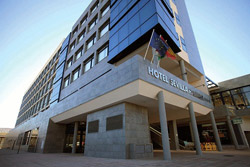 Hotel Sevilla Palmera: This affordable hotel is found just a few steps from the Virgen del Rocío train station, making it easily accessible wherever you are in Seville. The surrounding neighbourhood of El Porvenir was built for the 1929 World's Fair, and is a financial and business district with several restaurants and shops nearby. The Sevilla Palmera offers a play area for children, an internet access area and a restaurant on-site offering hot traditional meals 24 hours a day.


Petit Palace Canalejas Sevilla: This modern hotel can be found right in the heart of the historical district, or city centre, of Seville. A few minutes' walk will bring you to the Cathedral, Alcazar Palace and the Guadalquivir River. This hotel is among the top in Seville thanks to its impressive amenities, including breakfast buffets included in the price, bicycle rental and more.


Eurostars Regina: The Eurostars Regina can be found a short walk from the city centre, and just a few minutes from many museums. The area surrounding the budget hotel is quiet and residential, making it ideal for getting a good night's sleep. A covered car park and massaging bathtubs are the top recommendations for the hotel.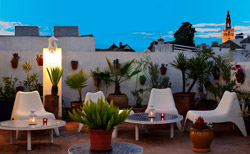 Hotel un Patio en Santa Cruz: This cheap hotel is found in the Santa Cruz district, close to the historical landmarks and in a safe area frequented by tourists. The building itself is a historical structure, and views from the rooftop terrace allow you to see the Cathedral by night in a way that is truly breathtaking.
With plenty of budget accommodation in Seville that is affordable, comfortable and welcoming, you're free to relax after exploring the history of Andalusia and this beautiful city.
back to top
Disclaimer: We've tried to make the information on this web site as accurate as possible, but it is provided 'as is' and we accept no responsibility for any loss, injury or inconvenience sustained by anyone resulting from this information.

sevillatourist.com is a website owned by the Spanish company Spanish & Internship Consultant S.L. Calle Miguel Bueno Lara, 8, 6-3. info@sevillatourist.com, which is listed in the official Business Registry of Malaga (Registro Mercantil) with the following Cif and registration numbers (Cif B92896588, Tomo 4437, Libro 3346, Folio 40).

view enlargement